Departments
6th Grade
2018-19 Science Camp Info Packet
Science Camp Dates: November 13-16, 2018
Chaperones:
If you are interested in being a chaperone for Science Camp in November 2018, please fill out the following form: Eich Science Camp Chaperone Interest Form
If you would like to get more information about Alliance Redwoods, click here.
7th Grade
8th Grade
English Learner
History
Individuals and Societies
*GATE testing held once a year – see administration for details on the testing process
This is a generic website for the district. Most teachers have their own website and you should contact them for that information.
I did include a snip it about the grade levels below…. only a snip it though. If you want more information, please feel free to contact your teacher and if they don't get back to you in 24 hours, contact me…. I'm the Department Chair for Social studies and will contact them for you if any hiccups. Send me a message here.
IB – We are known in the IB world as Individuals and Societies. We incorporate IB Philosophy into our classes several different ways. IB Characteristics are incorporated daily, comparing and contrasting historical figures with individuals from today. We also bring in current countries and their background where appropriate with our topics that we are discussing. Each grade level has their own specialty when it comes to design.
A little about 6th grade Social Studies
Study of early human man and the beginnings of our society as we know … Ancient Mesopotamia. Goes into the Hebrews and Egypt as well as India and China. Should wrap up with Greece and Rome where 7th grade takes over. Each ancient civilization we focus on geography, religion/beliefs, Social Systems and Achievements.
A little about 7th grade Social Studies
We use the acronym "GRAPES" – (Geography, Religion, Achievements, Politics, Economics and Social levels) when learning about societies in medieval times. We take over at Rome and start to discuss the Fall of Rome…The other societies to be discussed are Middle East, Africa, Asia, Europe and the Americas.
8th grade US History
It begins with Colonization in 1607 with Jamestown and review of the Revolution Fervor. The first trimester ends with the Constitution which is followed by the Constitution Test – a Graduation requirement. We offer a field trip to the State Capital (October) in order to compare State and Federal Governments.
The second trimester begins with the Early American Presidents and their policies, Washington to Jackson. We wrap up with Manifest Destiny, spreading the American culture from ocean to ocean.
Third and final trimester is the Civil War to America at the turn of the Century.
Please feel free to contact us at anytime. We are a dynamic team who are here to give the best education possible for your child.. as well as you! Get involved! We would love to have you sit in!
Language & Literature
2018-19 Teachers
To view a teacher's website, click on their name.
Helpful Links
CAASPP Practice Test
Merriam-Webster Dictionary
Vocabulary Games
Scholastic fiction and nonfiction reading lists by grade level
Math
6th Grade
CA Dept of Ed - 6th Grade Framework
7th Grade
CA Dept of Ed - 7th Grade Framework
8th Grade
CA Dept of Ed 8th Grade Framework
Accelerated Math*
*Placement in the Accelerated Math courses is based on most recent CAASPP scores, teacher recommendation, and district placement test score. If you have questions about these courses please email Chris Ponseti.
Physical Education
Click here to visit the department website!
Please click on the link above to visit our personal pages, which will be located to the left of the screen. All information/forms regarding our program may be found here.
Science
6th Grade
7th Grade
8th Grade
Assessment Redos
Science retakes will be at the discretion of the teacher. A redo-ticket will be required in order to participate in the retake. One-time retakes will occur in a timely fashion after the initial assessment at the arranged opportunity by the teacher.
Important Links
Textbook link
Next Generation Science Standards
IB MYP Design Cycle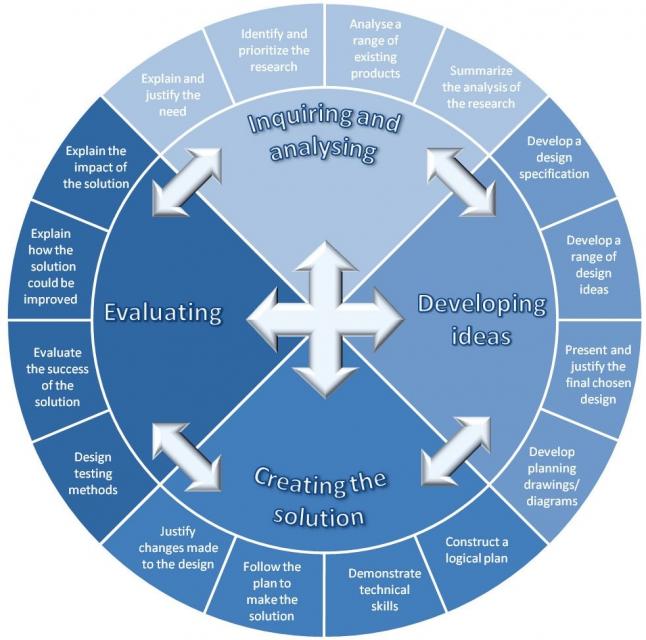 IB requires 50 hours of Design coursework per school year and only teachers who have completed IB training in Design can document the hours in class. It can either be offered as a separate class or integrated into other subject areas. Eich has decided to integrate Design into science, history and certain visual and performing arts classes (Adv. Art, Computer Technology courses, Yearbook, Ballroom Dance, and Leadership). Eich has created a "Design" tracking sheet that is shared with all students via Google Docs to track the hours so we ensure all students have access to the required 50 design hours per school year.
Extra-Curricular Opportunities with a STEAM Focus
Tech-Trek
Don't Buy the Lie
Academic Talent Search
Destination Imagination
Student Services
Teaching Staff
Name
Position
Teresa Tabb
Department Chair,
Resource Specialist 7th/8th
Lauren Gerringer
Resource Specialist 6th/7th
Jennifer Turner
Special Day Class Teacher
Mary Catherine Klein
Functional Skills Teacher
Brett Teel
BRIDGES Teacher
Supporting Staff
| Name | Position |
| --- | --- |
| Mauricio Buchner | School Psychologist |
| Lindsay Walter | School Counselor |
| Cherisse LaCoste | School Nurse |
| Jennifer Mackey | Speech & Langauge Pathologist |
| Emily Robbins | Speech & Langauge Pathologist |
Visual/Performance Arts (VAPA) Department
World Language
Our World Language Teachers
IB World Language Presentation (IB Night 2018)
Does the language you speak change your view of the world?
Interesting article on positive effects of learning a second or a third language.